60 seconds with…Olli Köresaar, Managing Director, Schindler UK and Ireland
Tell us about your business, when was it formed and what do you do?
Schindler moves people and goods, connecting vertical and horizontal transportation systems, enabling the shaping of sustainable urban landscapes – now and in the future.
With over 148 years of experience, we pride ourselves on safety and quality, offering value to customers, with integrity and trust.
Who are your customers? Which markets do you serve?
You are our customer. In fact, anyone who needs vertical or horizontal transport, regardless of sector, and whether it's a new installation, an existing installation, modernisation or simply servicing, is our customer.
Every day, we safely move more people than cars, planes and trains combined. With more than 1000 branches in over 100 countries, We Elevate… Everyone.
How has the market been affected over the past two years? What has been the impact of Covid?
The COVID-19 pandemic has affected our environment in unprecedented ways, however Schindler employees around the globe continued to focus on keeping cities moving and delivering value for customers.
Our broader sector is experiencing a complete reset, driven by two major industrial revolutions happening at the same time: decarbonisation and digitisation. This reset touches every aspect of our lives, while placing sustainability and resilience at its core.
Has Brexit had any significant implications for your business?
The impact of Brexit was unknown when first announced but we saw it as an opportunity to work towards and be prepared for any potential risks. Looking back, we can proudly say that customers weren't impacted.
What impact do you expect the Buildings Safety Act to have on your business and or your customers?
At Schindler, we put safety first. It's our most important company value and one we shout about the most. We want people to go home safe to their loved ones, every day. We believe the impact of the new Buildings Safety Act will be minimal for us, but we'll continue to share information and support the relevant duty holders to ensure our products remain compliant to the applicable regulations.
Are there any issues that specifiers, contractors/owners should be aware of in the next 12 months?
In a world that's getting ever more expensive, budgets are being squeezed. Engaging with us early in the order process helps us give you the best advice and value for money.
And with difficult supply chains, I'd suggest people keep up with their service schedules to keep their equipment in peak condition for as long as possible – saving money and time in spares and repairs.
How can we, as an industry, help designers and building owners become more energy efficient and meet Net Zero targets?
In June 2022, we committed to reaching net-zero emissions by 2040 with targets validated by the Science-Based Targets Initiative (SBTi) and we want to help you meet your own targets.
Cities, accountable for 70% of global carbon emissions, hold the key to climate change. Home to 4 billion people today, cities will house no less than 6.5 billion people by 2050. We make a difference by promoting smart and sustainable mobility that avoids environmentally damaging congestion and improves quality of life.
From eco-friendly mobility solutions to our leading transit management solution – we can help reduce the energy consumption of an elevator group by up to 40%. Add in connected units, which can be monitored and maintained remotely, and we also reduce the need for technicians to travel on-site.
How many times have you exhibited at LIFTEX?
2022 will be our first year at LIFTEX but we're looking forward to attending and sharing our vision with you.
What will you be promoting / what can visitors expect to see on your stand?
We're showcasing our latest innovation and future thinking technology to reduce energy consumption, improve efficiencies and make the most of digitalisation.
What advice would you give to anyone visiting the show? What should they look for and how can they get the most from their visit?
Talk to us on stand D82. Share your mobility dreams and nightmares with us and we'll help you put them to bed. And while you're with us, you can experience our digital media services at their best, immersing yourself in our lift car experience.
Meet the team on stand D82.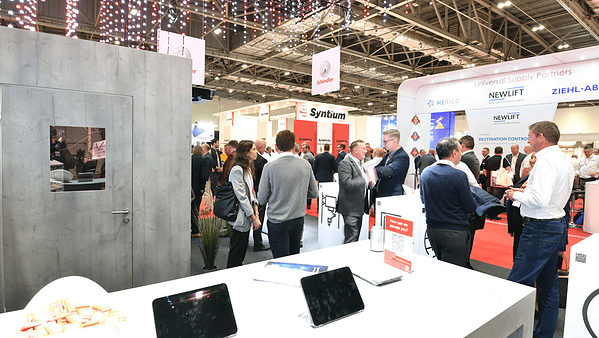 LIFTEX has seen a 22% increase in attendance to its 2022 edition which took place from 12 – 13 October 2022 at London's ExCeL.
Read More